nema 23 integrated step servo motor with driver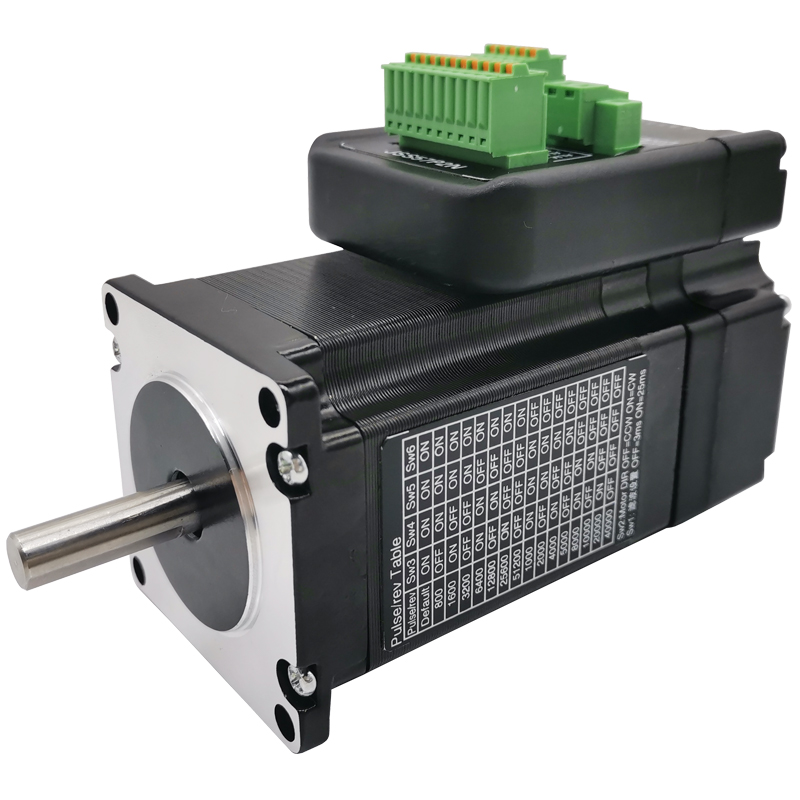 NEMA 23 integrated step servo motor with driver
Motor Parameter:
Model

Step angle

Current

Resistance

Inductance

Holding torque

Motor length

Total length

Encoder resolution

JSS57P2N

1.8°

4.2A

0.5±10%Ω

1.8±20%mH

2.0N.m

76mm

108mm

1000ppr

JSS57P3N

1.8

°

4.0A

0.7

±

10%

Ω

3.0

±

20%mH

3.0N.m
112mm
144mm

1000ppr
Motor dimension(mm):

Features:
1. Adopt advanced 32-bit motor control dedicated DSP chip and vector closed-loop
control technology;;
2. The default work is in closed loop mode, no loss of step, and it also supports working
in open loop mode.;
3. Increase the output torque and running speed of the motor;
4. The current level is intelligently adjusted according to the load, reducing the temperature rise of the motor, locking the current, and adjusting the closed-loop peak current.;
5. Adapt to various mechanical load conditions (including low-rigidity loads such as pulleys and pulleys) without adjusting the gain parameters;;
6. The position command smoothing filter can be set, the motor runs smoother, the vibration is lighter, and the acceleration and deceleration dynamic performance is improved.;
7. Zero-speed static capability without vibration after positioning;
8. Support single and double pulse input, pulse response frequency up to 200KHZ;
9. Support 15 fixed subdivisions, and support software to set any subdivision (200~65535);
10. Support modbus RTU protocol on RS232, position and speed control controlled by communication;
11. Support monitoring of motor operating conditions, including speed, position deviation, bus voltage, operating current, etc.
12. Voltage range: DC+24V~48V;
13. With overcurrent, overvoltage, positional tolerance and other protection;

Immediately Consult